(November 30, 2015)
CMHC, like most forecasters, is conservatively projecting a slowdown over the next year due primarily to rising interest rates. They predicted essentially the same thing a year ago:·      
MLS® sales are forecast by CMHC to reach 38,400 transactions in 2016 and 37,400 in 2017 (compared to actual sales of 35,975 for the first 10 months of 2015). One year ago, CMHC forecast 32,250 sales in all of 2015.·      
The... read more.
(November 28, 2015)
Even with all the other things to watch this year – elections, international events, economic news – the sport we call "the real estate market" has dominated both local news and conversations.As this 10-year graph for Greater Vancouver shows, home prices have been on a steady trend upwards, with this year, 2015, showing one of the steepest parts of the trendline.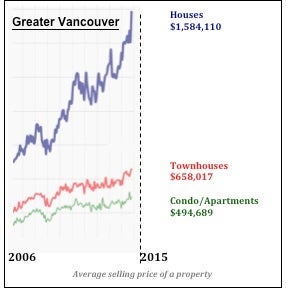 Burnaby North saw a one-year price... read more.
Categories
Archives

Subscribe To This Blog